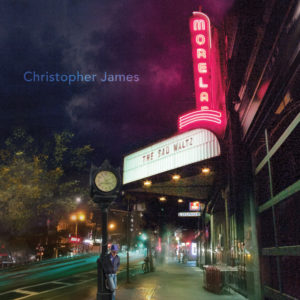 Christopher James, American composer, pianist and producer, released latest work. The Sad Waltz on July 14, 2017.
The Sad Waltz, a follow-up to the autobiographical album House by the Railroad, is a collection of 13 original, colorful and diverse compositions written programmatically for an imagined visual environment. Featuring a number of world class musicians, Tony Levin (Peter Gabriel), Tim Lefebvre ( David Bowie), Gerry Leonard (David Bowie) and Andy Snitzer (Paul Simon), Christopher James draws on lifelong musical memories, influences and inspirations to weave this journey. The opening track, "Consequence of Intent" is an impressionistic juxtaposition for piano and ambient electronica, accentuated by the haunting guitars of David Torn. "The Steppes of Mora" is classically influenced with a tip of the hat to the great John Barry. "I Can See it Now" looks back at James' relationship with his late father with lyrics written by Nashville songwriter, Craig Carothers. "Ostinato" and "Claude's Clouds" further demonstrate James' interest in contemporary classical composition. Grammy tm award winner, Gil Goldstein, wrote the elegant arrangement for cello and accordion to compliment the piano on the title track, "The Sad Waltz". The powerfully moving last track, "Guardian Angel" was written as a tribute to Elton John. "His music gave me a context for life and provided a beacon of light that continues to be my north star".
Christopher James is an accomplished classical pianist, composer and solo recording artist. His duo group, Val Gardena, released 3 well received albums in the 1990's for Mercury Records. One of those albums, On the Bridge, featured the top ten single, "Northern Lights". As a successful music executive and ex-CEO of Universal Classics and Jazz he worked with, and signed some of the world's greatest artists, including Luciano Pavarotti, Renée Fleming, Andrea Bocelli, Chris Botti, Wayne Shorter, Elvis Costello and Sting. Over the past 5 years, James has re-dedicated himself to his true passion of composing and recording new music.
James produced The Sad Waltz with his long time collaborators Bob Stark and Grammy award winning engineer, Kevin Killen.