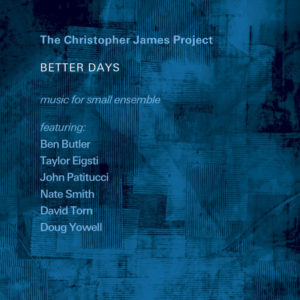 New "Christopher James Project" featuring:
Ben Butler
Taylor Eigsti
John Patitucci
Nate Smith
David Torn
Doug Yowell
NEW AGE MUSIC REVIEWS
"Contemporary instrumental and jazz make for a great partnership on the first album from The Christopher James Project.  The album's flow is perfect as one track introduces the next. The musicianship is exemplary, as one would expect with this lineup." 
-Keith "MusikMan" Hannalek
CONTEMPORARY FUSION
"the recording is pure and flawless, and I have no doubt that DJ's of all stripes will be choosing this for constant rotations! Ben Butler's guitar solo on "Blue Mountains" will hold you spellbound, and the Taylor Eigsti's piano work is truly remarkable… what really stands out on this wonderful song is the elegance… simple, yet amazing.
-Dick Metcalf, editor, Contemporary Fusion Reviews
MAINLYPIANO.COM
Better Days: Music For Small Ensemble is a great pick-me-up for any day (or night) with its optimistic spirit and expression of love for the beauty that surrounds us. It is available from Amazon, Apple Music/iTunes and streaming sites like Spotify. Both thumbs up!
-Kathy Parsons, MainlyPiano.com
"One word: Phenomenal" – NEW AGE CD
"From the very first notes, you know immediately this is a special album. The 10-track album is piano based, with the trio of piano, bass, and drums as a starting point. 'Better Days' is a 'Contemporary Instrumental' collaboration between Christopher James and what can only be called "an all-star line-up" of first-rate musicians forming "the small ensemble." The album is co-produced by Christopher and Bob Stark, who have
been working together for almost 30 years. The production on this album is flawless. We can simply sum up this album in a total of one word: Phenomenal. It's the best album I've heard all year, quite possibly ever, and I don't say that lightly. Uplifting and joyful, it is true to its title. There ARE better days, right here, just beyond the sunrise, which is how the album begins and ends, with the track "Beyond The Sunrise." And the last track is an alternate version of that song, each equally beautiful, and perhaps a reminder that life is a circle, an eternal cycle of beginnings, endings, and more beginnings. And the music makes you feel that way as if you're already in 'better days' and need seek no further. We are there. Too, there is a completely effortless feel to every track. The entire album is a synergistic work of art.
-Dylan Garris, Zone Music Reporter/New Age CD
Click to hear more from Christopher James